Comparing Apples to Apples when you hire your Realtor
Selling your home is a big deal — so while it may be tempting to go with the first word-of-mouth recommendation you get, when it comes to choosing a real estate agent, it pays to do a bit more research. Your real estate pro will be responsible for setting the sale price, marketing your home, running open houses, speaking with potential buyers and ultimately, once under agreement walking you through the selling process.To make an informed choice, before making a decision. Here are some key questions to ask potential real estate agents.
What is your experience and education? Though a new real estate agent can certainly be motivated and eager to please, a pro with years of experience will have the knowledge and skill to face unexpected challenges. Taking continuing education courses shows a commitment to keeping up with changes.
Is this your full-time job? Be aware if this is a part-time gig before committing. Someone who also works somewhere else may be harder to reach and could miss out on opportunities to show your house.
Are you a member of the National Association of Realtors? Membership in this professional organization is what allows a real estate agent to use the title Realtor. Being a Realtor means that the person has agreed to follow the organization's ethical guidelines and to keep up with continuing education.
How will you market my home? There is a lot more to marketing a house than putting up a for-sale sign on the lawn. A good marketing plan can be what makes the difference between a speedy sale and a home that languishes on the market. Buyers today start their search on the Internet, if it doesn't capture them there you may never get them in the front door, be sure they are up to date with technology.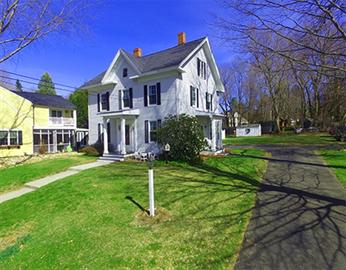 366 Main St Groveland, MA $575,000
Today's Technology in Video Tours
On average, how close to the asking price is the final sale price on homes you have sold? This figure will give you a good picture of whether the agent tends to price homes well. If most of the homes the agent has represented have sold for far less than the asking price, that's a sign they were priced too high. Realistic pricing results in home sales that are close to or at the asking price.
What are the negatives of my home? You are not looking for a rainbows and unicorns response here. An agent that is a good fit should be able to name several potential drawbacks to selling your home, from repairs to location and beyond. That said, you will be spending a good deal of time with your real estate pro, so seek out someone with a realistic but tactful approach. They should also be prepared to offer resources to help achieve these suggestions.
What type of support staff or resources do you have? This could include anything from technology help for creating a visual plan to make your home stand out above the rest, in house lender, professional interior design/stager, to a full time assistant assuring phone calls are answered.
How will you keep me informed about progress? Find out how frequently you can expect your agent to check in with you, and when he or she is available for you to call with questions or for updates.

Do your homework before choosing your Apple
To sum it up trust your instincts, but when you research make sure you understand what you are researching. Home buying and selling today are dramatically different than they were just 10-12 years ago. Its an important decision, make it carefully & always look at the big picture!
Call me today if your thinking of selling, I would welcome the opportunity to be in the "Bowl of Apples"
Shevaun
978-325-1595